Forming a modern learning movement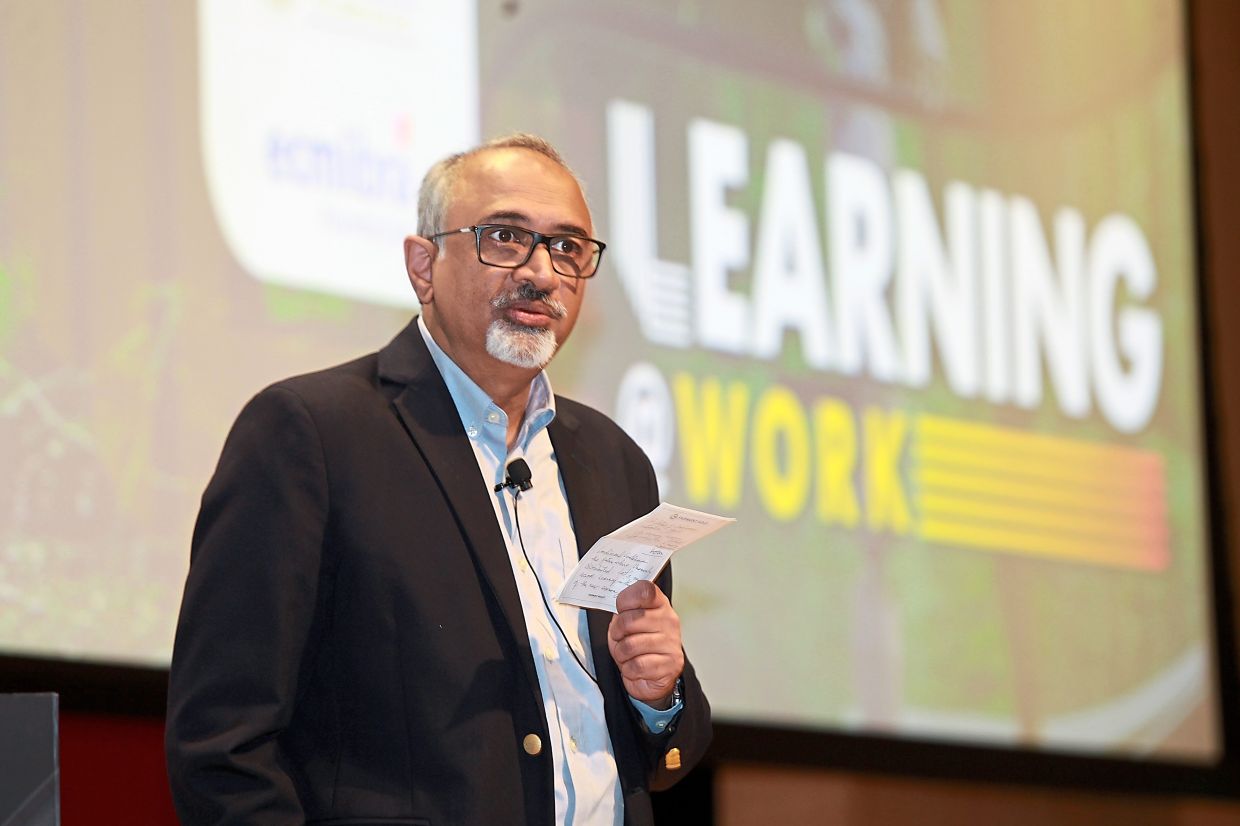 THE world is changing in more ways than one and all this is putting into question the reliance of the larger community on the existing education system.
Citing developments in the "new world", such as the rise of artificial intelligence (AI), Asia School of Business (ASB) chief executive officer, president and dean Sanjay Sarma warned that what students learn in the classroom may be outdated by the time they complete their studies.
"We have to change. There's a way to rethink education in that when you get your degree, it's intermingled with work and actual hands-on activity.
"It's called action learning. You don't just learn – you go act on your learning, then you come back and learn some more," he said.
Likening the setup of most college curricula to a train ride, Sanjay pointed out that if students jump off the train, they are off and can't hop back on.
"Action learning is the movement we need – this applies not just to college, but also to school and the future of the workplace," he said.
Speaking at the second of the four-part ASB Learning@Work Leadership Summit Series titled "Human Learning in the Age of Machine Learning" in Kuala Lumpur on Sept 13, he said the world is confronting a great job migration, brought on by technological advancements.
Learning is the oxygen of the new economy. A young person might need to quickly learn about hydrogen as a brand new technology, a middle-aged person cybersecurity, and an older person some new technologies.
"The problem with our approach to learning is it's going to take us four years to get from where we are to where we need to be," he said, alluding to the duration of most bachelor's programmes.
He added that even one-year master's programmes have a very high opportunity cost.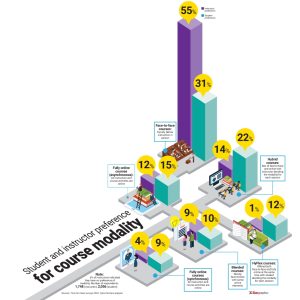 "Your job may change by the time you go back, your industry may change, your company may vanish or be acquired. We've seen all of this. We have to rethink our education system," he stressed.
Amid climate change, technological innovations and shifts in the working world, he said one needs "speedboats and motorboats", and not "cruise ships", to cover the skills gaps.
"If suddenly someone needs to learn cybersecurity, they're not going to go back to college for a year; it's not going to happen," he said.
He also noted the emergence of digital nomads, where work and nationality are decoupled, and gig economy, as among the reasons why the education system needs to keep up with the changing times."The half-life of the degree is plummeting. Young people graduating from college are going from gig to gig, not caring about which company they work for or about their careers.
"Your degree, which is a proxy, ceases to matter – it may matter to your first and second jobs, but when the third gig comes, what matters is how many stars you got for your previous gig.
"It doesn't matter that you went to the Massachusetts Institute of Technology (MIT) or an unknown college – if you delivered the software and got a few stars, you are better than the kid from the MIT who didn't do well in the last gig," he said.
He also drew attention to the duration of each lesson which, he said, violates the principles of cognitive science.
"Every classroom is based on a half-an-hour, or 45- to 90-minute lecture. It turns out that after 10 minutes, the hippocampus, which is the switchboard of the brain, gets tired. What happens is you get in the mode of listening but not learning," he said.
For the education system to address all this, Sanjay highlighted the importance of credentialing, other than action learning.
"It's a degree that is constituted of credentials where you don't have proxy exams but exams that really test authentic skills, where you can hop on, hop off, and work while doing so – this is the movement we are starting," he said.
He also emphasised the need for quartenary education, which is the fourth stage of learning after primary, secondary and tertiary education.
"It is the duty of education institutions to provide quartenary education.
"To create a quartenary education movement is going to take societal will, institutional commitment and corporate engagement – companies and professionals have to learn to work in a new way," he said.
"This is the movement that Malaysia is uniquely positioned to start. You have over 30 million people, you're on the threshold of becoming a high-income country, and you have a diversity of jobs, a very advanced economy and quite a forward-looking society," he added.
'New type of university'
TO design a new university, online learning and hybrid models are two components that universities can integrate into their building blocks.
Pointing to a shift in student attitudes towards these modalities of instruction (see infographic), Axim Collaborative chief technology officer Philipp Schmidt said this is the right moment to think about a new type of university.
Axim Collaborative is a United States-based non-profit organisation founded by the MIT and Harvard to address systemic equity gaps in higher education.
Citing data collected in the US, he posited that the shift in attitudes has happened with students but not the instructors yet.
"We're seeing an acceleration of people who are adopting technology get more optimistic about its use, and start using it more and moving further ahead – the fact that students are so far ahead of their instructors and administrators is something to keep in mind," he told the ASB Summit via a video call.
Another development he highlighted is the growing interest in a flexible model of education among learners.
In the US alone, he said, there are 25 million people in the market who are interested in this model.
"Much of the education system still looks like the old model. Implicit in this old model is that when you're done with education, you have now learned everything you ever need to be a successful professional in whatever career you are in.
"But the reality looks different now," he said.
Referencing Accenture's 2021 study on learner mindsets, which presented six learner segments, Schmidt said four of them can be considered lifetime learners.
"These learners will want to learn at different moments in their lives, and will come in and out of education," he asserted.
Education institutions, he said, are however relatively slow to adapt to the flexible model of education.
Cautioning that change can be extremely quick, he added that new, innovative institutions can move into leadership roles in the span of 10 years that looked very different before, while other institutions that have not moved all that much are grappling with how to innovate and change.
Online versus hybrid
Massive open online courses (MOOCs), he said, have fundamentally changed perceptions of online education.
"Ten to 15 years ago, online education was considered a second-best option. Today, it's more considered an option for highly skilled, highly motivated professionals to use to advance faster in their careers," he said, adding that MOOCs have reached 220 million learners with offerings from 950 universities around the world.
Online learning, however, does not work on everyone or every course, he pointed out.
"It largely doesn't work for students who may need a little more help, and that includes students coming in to university because they haven't had a lot of time learning how to learn," he added.
Hybrid models, he said, are much more successful.
"They make it easier to do active learning and project work, and spend time in a room critiquing each other's projects – some of those things that are really easy to do in person but hard to do well online," he offered.
Credentialing
To support this kind of learning pathway, Schmidt said the credential system needs to do a better job.
"Traditional credentials in higher education don't tell much about what students know and can do, yet the bachelor's degree is by far the most important credential for accessing the job market, especially in the US," he said.
This, he added, is leading to degree inflation, which is a real issue not just for the learners, but also for the employers.
While things are starting to shift, with 14 states in the US eliminating the bachelor's degree requirements and adopting skills-based hiring, he said hiring practices haven't caught up yet.
"One of the reasons is that our credentials don't tell enough of the skills and competencies of the individuals," he explained.
Credential designs such as open batches can be used to address this.
"You could learn things in a variety of spaces and if you get a badge for things you learn in these environments, you could put those things in a 'backpack' or 'wallet'.
"If you apply for a job, you could select the badges you want to share with the recipient. The badges will contain digital information about what you learned, the projects you worked on, and some comments from other students who had worked with you, so there's a merging of data," he said.
"Over 75 million badges have been created, so there's been real interest in this," he added.
Talent-building strategies
Forging better pathways for learners
"Here's my proposal for three things we need to do for better pathways for talent:
> First, vastly cheaper and more flexible learning. We need agile, customisable, flexible, iterative learning.
It'd be great if we could rearrange and re-permute it, and if we recognise that many learners benefit from episodic deep dive into learning and interweaving that with real-world experience.
> Second, thinking carefully about how we interleave online and traditional learning with direct, lived, tangible experience, projects and teamwork.
MOOCs and online learning are not the be-all and end-all.
We can adopt the notion of gemba, which means that a place where things happen should be the focus of managers – but it should also be the focus of learners who want to enter the industry. We can't just do that through MOOCs.
The other idea, Genchi Genbutsu, which is related to it, means if you're wondering about something, go to the place and observe.
Doing so can fuel some ideation rather than walking in and judging the problem or trying to solve it right off the bat.
There is a role for not only action learning, but also research, in which you acknowledge you're a participant in the system and draw valid research findings out of it. It's an invaluable tool for learning.
The new form of learning should think about how to intertwine these.
> Third, credentialing learning but also helping our students recognise what they have learned, especially from action learning and other forms of hands-on learning.
Students very quickly incorporate what they learn. It gets to be second nature, and you do the thing without knowing you are doing it. That's expertise, but when you're learning, leading or managing, you need to be good at enrolling others or bringing others along.
You need to be able to not only solve the problem, but also frame what you did, bring others into the conversation and most importantly, disseminate insights in the ways that others can follow and make their own."
– ASB Summit speaker Anjali Sastry, who is MIT Abdul Latif Jameel World Education Lab faculty director and MIT Open Learning associate dean
Mini-interventions for the disadvantaged
"Talent building does not begin after they graduate. Thinking about the lifelong journey of a potential worker is very useful in this case.
One thing that is under-highlighted is how Covid-19 set people behind, in particular those who are completely under-resourced relative to us.
A lot of these problems are structural, meaning things we cannot fix by giving them one-time intervention. We might be able to fix lack of devices but we cannot fix issues such as access to the Internet and security concerns.
We can't control everything on the list, but the idea is that there are some things we can control and doing mini-interventions can make a huge difference in these people's lives.
A social mobility study by Harvard economist Raj Chetty found that networking or mixing together poor kids and rich kids improved outcomes significantly for poor kids, and also for rich kids.
The mechanism is through networking – that opens up economic opportunities, and the goal is to get everyone up the ladder, and not leave anyone behind.
Exposure matters. In an ASB study we conducted, a lot of the 16-year-olds we surveyed who wanted to be accountants said it's because one of the Big Four accounting firms once paid them a visit and exposed them to accounting.
These small touchpoints make a huge difference. In a situation where there are not many options, even a small option makes a huge difference.
In all of our roles, be it in government or the private sector, we have a small but key role to play in helping us build the new workforce for the future.
A lot of AI tools can help immensely. I had a study for the undocumented population which found that training people how to access gig economy is a lifesaver.
Another example is microcredentials. Children who cannot access formal education or afford private schooling can take microcredentials and get something that is recognised globally.
There are tech innovations but they should not increase inequality – we should all be better off."
– ASB Summit speaker Melati Nungsari, who is ASB associate professor of economics, Asean Research Center director (ARC) and Rapid Youth Success Entrepreneurship (RYSE) director
Originally published by The Star