Borneo Post: SCOPE holds ESG workshop in conjunction with coming IDECS 2022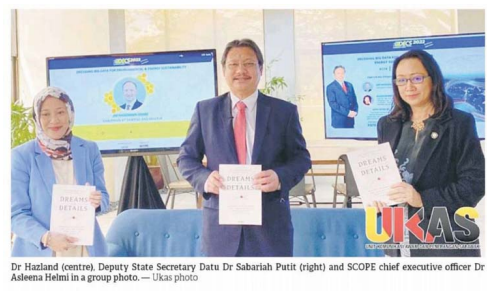 The Sarawak Centre of Performance Excellence (SCOPE) in collaboration with the Asia School of Business (ASB) and the Sarawak Biodiversity Centre organized an Environmental, Social, and Governance (ESG) Awareness Workshop on Monday.
A report by Sarawak Public Communications Unit (Ukas) said the workshop, themed 'Driving the Green Agenda' at SCOPE Auditorium was held in conjunction with the coming International Digital Economy Conference Sarawak (IDECS) 2022 as part of its Digital Satellite Programme. Deputy Minister of Energy and Environmental Sustainability Dr Hazland Abang Hipni said in the report that ESG refers to three main factors to measure the sustainability and ethical impact of investing in a business or company.
"Currently, there are certain financial institutions that will use ESG to evaluate a company and some large companies such as the oil and gas industry cannot get funding because they do not comply with ESG standards.
"So we want the big industries in Sarawak, especially the hydrocarbon industry, to be aware of this," he said. Dr. Hazland also said the workshop was held as an initiative to encourage large industries in Sarawak in developing nature conservation mindset.
Originally published by Borneo Post